Mentor DC Drives
Mentor DC Controllers
Transdrive offer the new Mentor MP DC Drive this new DC Drive replaces the Mentor II DC Drive which is now obsolete.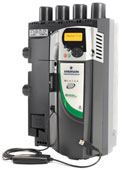 If you are replacing a Mentor II DC Drive please select Mentor II Legacy products from the left hand menu and select the Mentor II DC Drive you are using your will be directed to the direct replacement Mentor MP DC Drive.
Replacing your Mentor II is straight forward with the footprint and mounting rails being the same on both models and as an added benefit the wiring termination has been designed in the same place making the replacing as easy as possible.
Should you require help in your selection then a Transdrive application engineer is always happy to help, just give us a call.